We are always concerned about the impaction on the environmental burden while making production. Eco-friendly technology is always one of the most important issues of Sanling Microfiber. 
By using figured sea-island microfiber, we do not need to use toluene to dissolve the microfiber.
The Eco-friendly technology we use to dissolve fiber: we just need to use a low concentration of alkali liquid in this process. It has no risk of harm worker's healthy and increasing environmental burden with the organic solvent.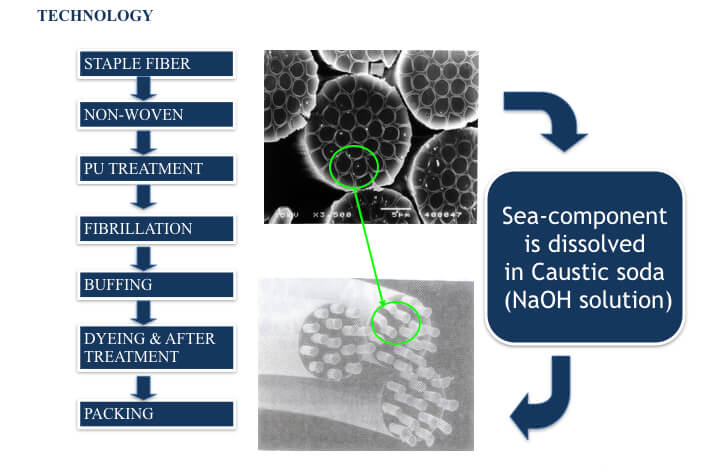 How do we deal with the dissolved COPET?
COPET is recycled and used for other industrial purposes such as filler of some material.
By using waterborne PU for microfiber suede, the whole production process does not need any organic solvent.
Sanling microfiber started to do R&D of waterborne microfiber leather several years ago. We know it's so important to use waterborne PU to protect both people and the earth. It's a big step of eco-friendly technology of replacing DMF based PU with waterbased PU. The improvements is not just organic solvent-free, but water-saving. Maybe people will be curious about this point. Please check another page of the waterborne microfiber suede for more details.
By using Recycled PA6  for microfiber suede.
As we all know the most majority of plastic is made from petrochemical industry, which increases terrific amount of the world carbon emission.   Sanling microfiber started to do the development of recycled PA6 in 2019 and produce suede with recycled PA6 in year 2021. According to some authoritative data, by using 1kg recycled plastic, people can reduce the using of 2-3kg raw oil, decrease emission of 50% CO2 and 80% SO2, and also reduce 45% of sewage discharge and 60%-70% energy consumption.  For more details of Sanling product using recycled PA6, please check Oritend and Extra-frontier.
Dyeing stuff and finishing agents we use.
Dyeing stuff and finishing agents are also an important category for making microfiber leather. We are very carefully choosing these materials to meet the necessary standards. For instance, we use a C6 or fluorine-free waterproof agent instead of a C8 waterproof agent. In other words, Sanling microfiber is doing every effort to ease the environmental burden.
Certificate
Not just the product, our factory considers environment protection while making production. We have achieved ISO14001 certificate in the year 2019. We have also achieved GRS certificate in year 2021.
In conclusion, it's endless for us to make researching and developing Eco-friendly technology. We hope to make a better world for the next generation.